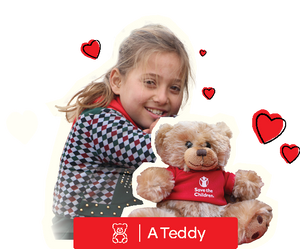 Buy A Teddy Bear For Charity
A squishy, lovable and cuddly teddy bear 
Spread the love and buy a teddy bear. 
Teddy bears mean so much to children like Lara* who've escaped violence in Syria. When Lara and her family had to flee their home, she bundled up her toys. Her teddy bear has travelled with her ever since. 
Your digital Good Gift purchase will be helping to support children like Lara through our Child Friendly Spaces. In the aftermath of violence or disasters, these spaces give children a safe place to play with toys and provide a sense of normality amidst the chaos. 
Thank you for putting your love into action!
Each Good Gift represents a way that Save the Children works to empower children and their communities. For more information on how your gift helps, please see here. 
---
We Also Recommend